The Daily Paper  is a breakfast and lunch restaurant in Hyannis with 2 locations . It is a little bit off the beaten path down downtown Hyannis!  They have voted in the Top 5 Breakfast on the Cape Cod A list!  The warm and friendly place will have you coming back on your yearly family summer  vacation to the Cape!  They have  breakfast on weekends late-until 2pm on Saturday and on Sunday until 1pm!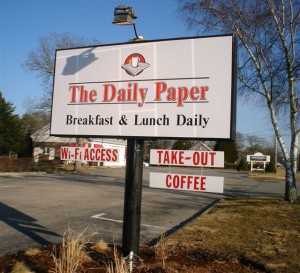 Check out the reviews
When I have to meet up with someone in Hyannis for breakfast or lunch- this is the first place I think of. The food is terrific, the owners are awesome people and the service is impeccable. Your coffee cup is never empty! All for a great price. Both of my boys lifeguarded at Craigville Beach in the summer and started many of their mornings with a breakfast at The Daily Paper! Love their omelets.

Excellent food. Big bright and spacious. Great for small groups or big groups. Lovely staff. Omlettes great, bagels fresh and salmon platter large and priced $$$$ less than other local places.

My boyfriend and I have tried just about every breakfast place on Main Street and The Daily Paper has climbed to the top of our must return to list

I remembered loving The Daily Paper when I moved off Cape a few years ago. So naturally when I came to visit family this past week I had to stop in and see how they were doing. I was excited to see they were popping with business and had expanded their parking lot. The specials of the day were as creative as I remembered and the atmosphere was perfect. I love that you could easily make yourself a coffee while you waited for a table and/or one to go after your meal. The coffee is from a local roaster and was absolutely delicious. It was awesome to see a selection of local beer and wine had been added to the drink list. I was beyond excited to see biscuits and gravy on the menu, which my husband and I immediately ordered a side of. It was the BEST BISCUITS AND GRAVY we have EVER eaten. Our server Brenda was wonderful, friendly, efficient and attentive to our needs. I strongly recommend anyone looking for a real breakfast or a nice lunch to check them out. Their early bird special pricing can not be beat in price or quality, nor will their regular menu break the bank and you definitely will leave FULL and HAPPY! We will certainly be back next time we are in the area!

I vacationed this past week in Hyannis, MA on the Cape. My time share is across the street from the West Main Street location. I had brunch here 3 times and I can't say enough about it, from the food, to the service, and the location! Outstanding! Cape Cod locally brewed coffee is amazing!!
The Daily Paper
Our Original Location
644 West Main St.
Hyannis, MA 02601
508-790-8800
Monday-Friday:
Breakfast Served 6am-11:30am
Lunch Served 11:30am-2pm
Saturday:
Breakfast 6am-2pm
Lunch 11:30am-2pm
Sunday:
Breakfast ONLY 7am-1pm
The Daily Paper on Main
Our New Location
(Formerly Mr. Perry's Deli)
546 Main St..
Hyannis, MA 02601
508-775-9711
Monday-Saturday:
Breakfast Served ALL DAY 6am-2pm
Lunch Served 11:30am-2pm
Sunday:
Breakfast ONLY 6am-1pm
The Daily Paper Cape Cod Restaurant