The Light house restaurant  is  great little restaurant located right in the center on Wellfleet that has been here since 1978 serving breakfast, lunch and dinner daily.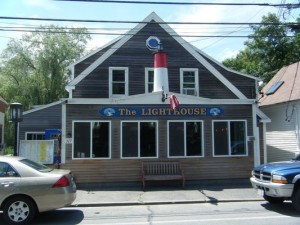 Breakfast is served until noon each day. The smell of the coffee is wonderful as you walk in the door and it fact you can actually smell it from across the street. It's like the coffee is walking up the whole village. The blueberry pancakes are superb and omelets fantastic What a great way to wake up while on the upper cape.
Mid-day the restaurant becomes a favorite Pub-Deli with fine wines and eight import and domestic beers on tap, and offering the best corned beef, turkey, pastami, angus burgers, salad plates, chicken and of course, clams, oysters, scallops, and char broiled cod. What will the kids eat? Hot dogs, grilled cheese, no problem!
Come in for fresh Wellfleet Oysters and live lobster for dinner.   Fresh seafood is brought in to be prepared for your dinner plate– bass, haddock, lobster, swordfish, oysters, clams, shrimp you name it. There is also a extensive beer and wine list to choose from to complete your dinning experience. Your restaurant has a "children's menu" for smaller apetites. Here are just a few of the items we have to offer to satisfy your palette.
Mexican Night!
Every Thursday night is Mexican Night 5:00pm – 10:00pm.  Come in and grab a margarita and quesadilla.  The outer Cape's best Mexican food!
Open  Daily  8:00 am – 1:00 am   They usually close during the winter months and reopen in April for the season.
The Lighthouse Restaurant
317 Main St
Wellfleet, MA 02667