Heidi's Kitchen Café   is a newer breakfast/lunch  restaurant  on the Cape located in Dennisport MA. They are opened daily during the summer for breakfast and lunch from 7am-2pm.   They are going into their 2nd summer season but are becoming a favorite for many locals and tourists. When you're craving homemade goodness like grandma used to make, Heidi's Kitchen is the place to go . You won't leave hungry!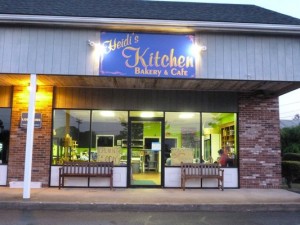 They have lighter breakfast selections  including many bakery items and breakfast sandwiches.  Some of their special ones include Captain Robbie's Heart Attack Special Brioche roll, sausage, ham, bacon, egg, and your choice of cheese.and the   Piping Plover Nest  Puffed pastry with havarti cheese, egg and bacon.  They often have breakfast specials that they post.
The lunch   andwiches made with homemade bread and soup made fresh daily, are a few of the reasons that you'll enjoy every bite of your meal.  There are also daily soup specials  plus you need to try out their  Captan Robbie's Famous Quahog Chowder.
Heidi's  Kitchen  Bakery and Café Restaurant
3 Mill St
Ste 5
Dennis Port, MA 02639