The Pickle Jar  Kitchen a is a newer  breakfast and lunch restaurant focusing on healthier choices and Main Street in Falmouth MA.  They are working with local farms to bring the freshest food for you and not your typical CapeCod fill you up breakfast dinner.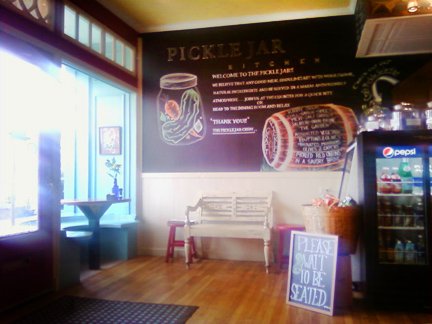 Healthy breakfast dishes include The "Patriot" Parfait   Greek yogurt-fresh strawberries, blueberry compote, layered and sprinkled with granola..      "The Marathon Scrambler"     Egg whites sautéed with garden fresh veggies and kale served with toast and choice of Homies or a side salad. They also have  breakfast sandwiches that are rolled up in Lavash bread.
For lunch they have a mix of salad, soups and sammies.  Chicken, Kale, and Quinoa   soup     Farm fresh chicken simmered with herbs and aromatic vegetables finished with Quinoa and Chopped Kale.  "The Bog Salad" Green apple, Cranberry Goat Cheese Crostini, Mixed greens, and crunchy sprouts, drizzled with Apple-cranberry vinaigrette. "The Boursin B.L.T  Sammy"        Pecan wood smoked Bacon, Boursin Cheese, Vine Ripe Tomatoes, Mixed Lettuces served on toasted sourdough bread
Here is the some their reviews
To start, you must order the pickle chips. Absolute must.For a meal, I did lunch. I've never had pulled pork over biscuits, but the Open Faced BBQ Boneless Pork was one of the best things I've ever eaten.The BBQ version of biscuits and gravy. The sweet, creamy sauce on top of the succulent pork mixed with a bite of cheesy, warm biscuit was amazing. I've also never had a salad as a side with my BBQ but this fresh mixture of greens with cucumber, tomatoes, shaved carrots, and pickled onions made for a well-balanced experience. I will be back and will have a hard time departing from such an amazing dish.

This is probably my favorite lunch place in Falmouth. The inside is nice, laid back; a New England village sandwich shop reminiscent of something in Vermont.

The service is always friendly, and the food is outstanding. The pickle chips are delicious as everyone has mentioned. I have a weak spot for pulled pork, so I either get the firehouse sandwich, or the open faced bbq pork – sooo good.

My favorite place for breakfast in the area! I love the seasonal special pancakes but their egg creations are amazing too and they are really good about my special requests too (I like my omelettes with 1 egg and 2 extra egg whites..no problem)

Without a doubt the best breakfast in Falmouth and on the Cape. The food is a 10+ , Casey and Liz the owners genuinely care about their customers and staff. The brand culture, sense of community and experience they deliver is exceptional! You gotta try my favorite egg omelette filled with sauté cherry tomatoes, carmelized onions, Swiss cheese, khale, homies sauté with onions, sour dough bread, and a Mason jar filled with iced coffee. Oh ya…The pickles rock too! (Believe me, I'm not one of the owners or staff – it's just the best of the best!)
They do have pickles for sale  as well!
2016 Spring hours
Thursday-Monday 7:00-3:00! You know this means it's almost spring!!!Looking forward to seeing all your faces!
Mon, Wed-Sun 7 am – 3 pm
The Pickle Jar Kitchen
170 Main St
Falmouth, MA 02540