Anejo Mexican Bistro opened it doors in August of 2010  in Falmouth  and very quickly became a fixture on the local  Cape Cod restaurant scene. With its unique take on fresh Mexican cuisine and cocktails offered in a fun, sophisticated atmosphere, co-owners Jesse Kersey and Jamie Surprenant pride themselves in offering an escape to Mexico in the heart of Falmouth.   You can enjoy outdoor seating right in downtown Falmouth  while sipping a margarita or over some fajatas for lunch or dinner.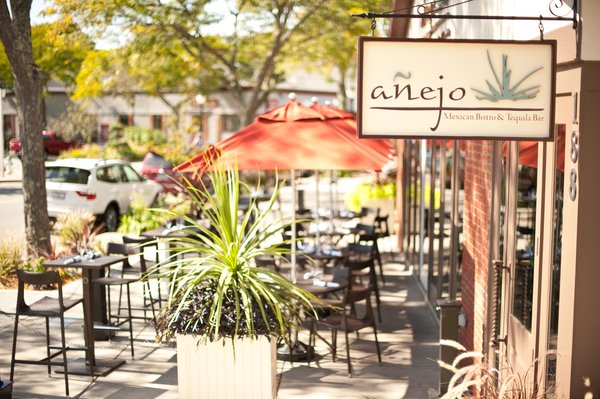 Anejo is open for lunch and dinner as well as Sunday brunch. The have traditional Mexican dishes for brunch including Huevos Rancheros Two Eggs Any Style over locally made Corn Tortillas with refried black beans, jack cheese, Salsa Ranchero, green onions, guacamole Añejo potatoes and Cotija Cheese. You can also try Carne Asada y Huevos Grilled marinated skirt steak with 2 eggs any style, refried beans, onion and pepper rajas, guacamole, sour cream and fresh locally made corn tortillas
Lunch and dinner have many Mexican street food including tacos, burritos and fajitas . Some of the house specials and menu favorites include Classic Pork Carnitas slow braised pork over local corn tortillas and melted jack cheese. Served with avocado salsa, refried beans, pork belly-potato hash and sauce verde. Swordfish Verano Grilled North Atlantic Swordfish over roasted chayote squash, grilled asparagus, corn and tomato tossed in lemon-poblano vinaigrette. Served with an avocado mousse.
Check out the reviews
I've been to Anejo 3 times and all three times the food was pretty darn delicious. The lobster taquito appetizer is incredible. The sauces under the taquitos, wow. Want to lick the plate. Anything I've ordered was always great. I've never gone at peak time so hopefully the service is just as great then.
(I've usually stopped in there mid afternoon in the spring or fall). This is a few bucks more for Mexican food but well worth it for certain. I'm looking forward to my next visit

The music, decoration and over all ambiance was perfect. Our waitress did a great job with service but also went the extra mile explaining some of the food on the menu. Then the food was the best part, we got the table side guacamole that was made in front of us with our desired amounts on ingredients. We also got the queso fundido, veggie quesadilla, and carnitas taquitos. All the food was excellent! We couldn't resist the fried ice cream and it didn't disappoint. We will definitely be taking the ride again soon!

As someone who spends a lot of time in Arizona…and LOVES Mexican food…I am thrilled to have been introduced to this place! It's rare to find fresh, authentic, delicious Mexican food in New England….but after my first visit I am definitely excited for a return visit. I had the Mole Poblano Chicken Enchiladas…YUM! ….and the Margaritas were pretty damned good too!! Reno was attentive and professional. What's not to love??

I have never received a bad meal there. The meals, appetizers……and strawberry margaritas YUMMY! The staff is just great, from the hostess to the bartender and everything inbetween. A very comfortable atmosphere. I honestly have turned more people on to this  Mexican  restaurant and everyone of them loved it and said they've added a winner to their list.
Mon – Sat: 11:30 am – 1:00 am
Sun: 10:30 am – 3:00 pm, 4:00 pm – 1:00 am
188 Main St
Falmouth, Massachusetts