The Taylor Bray Farm is located in Yarmouthport and is open to the public!  In 1639, the farm was founded by Richard "of the rock" Taylor while the land was still part of the historic  Plymouth colony. It remained in the Taylor family for many years until 1896, when the Bray brothers, who both worked on the farm for the Taylors, purchased the property.  In 1987 the farm was purchased by the town.  It is now run by the collaborative efforts of several preservation groups.  Today, the smaller 22 acre property is a working farm.  It has donkeys, goats, cattle, sheep and chickens.  Visit with the farm's sheep, cows, chickens and donkeys.
Upcoming Special Events
Sheep Festival   Sunday July 18th 10-4pm
Highlights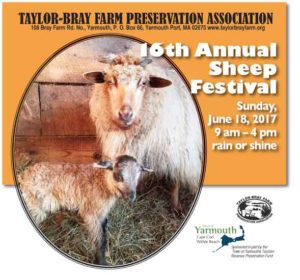 Sheep Herding – David Kennard/Wellscroft Farm
Sheep Shearing – Andy Rice/Hogget Hill Farm
Haywagon Rides
Farmhouse Tours
Archaeology Display & Demonstration
Demonstrations/Sales
Cape Cod Spinners Guild
Cranberry Rug Hookers
Kelly Knight, Weaver
Taylor-Bray Farm Hats, T-shirts, Activity books & Shopping Bags
Giant Silent Auction
Refreshments
"The X-GRILL"
Dr. of Grillology, Breakaway, Hall Oil Co.
Suggested Parking Donation – $5.00
Yarmouth Summer kick off celebration at Taylor Bray Farm
Saturday June 24th 12-3pm
Tired of the beaches? Spend an afternoon at the farm! Yarmouth's hidden secret! 108 Bray Farm Road, Yarmouth Port. Events are planned for all ages!! Tour the historic restored & furnished Samuel Taylor Farm House. View an archaeology demo, display, and talk. Visit the animals and take a hayride. The Farm dates back to 1639 and the recently restored Farm House to the mid 1800's. Restoration was completed in early 2015. Docents wearing period costumes will provide guided tours highlighting the history of the area and farmhouse. Visit the farm and learn more about our exciting archaeology project, which has documented thousands of years of Yarmouth history. We will have a demonstration dig and a display of Native American artifacts as well as discussions with Craig Chartier, the Project Archaeologist, and Jack Duggan, the farm's archaeology coordinator, on current digs that discovered evidence of Yarmouth's first "tourists" 8000 to 10,000 years ago! The farm is home to a variety of animals including a Scottish Highland Cow, two miniature donkeys, two goats, Momma sheep and their babies, a ram, and chickens. Hayrides will be offered continuously during the event. Visit their web-site: www.taylorbrayfarm.org or visit the farm open to the public from dawn to dusk every day to learn more about the Taylor Bray Farm. This event is FREE.
Taylor-Bray Farm, 108Bray-Farm Road North, Yarmouth Port.