The Adventure Park at Heritage Museums & Gardens  is a great  zip lining experience on Cape Cod The Adventure Park is an all-natural, interactive outdoor educational experience, set within four acres of forest, and designed to bring the public closer to nature through recreation and learning. The park contains two aspects from which the public can choose to participate. The first is the "Aerial Adventure" – which consists of "aerial trails" between elevated platforms in the trees at different heights with zip lines and challenge bridges to cross. The second aspect is the "Forest Walk" or "interpretive pathways." These ground level paths wind their way through the forest beneath the climbing activities and bear interpretive signs explaining the area flora and fauna. The climbers in the trees will also benefit from educational signs at their level, explaining scientific principles behind their treetop experience.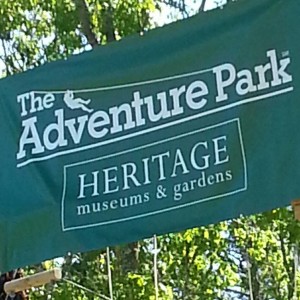 The Aerial Adventure in-the-trees experience is a two-hour ticketed experience. Each aerial trail takes approximately 15 – 30 minutes to complete. Climbers return to the starting platform after completing each trail to select another trail. Visitors may linger on the ground-level Forest Walk interpretive trails as long as they'd like.
2017
2017 Adventure Park Pricing
All tickets are valid for 2 hours of climbing time unless otherwise specified. Tickets include an additional 30 minutes of initial harnessing/orientation/practice time.
Please plan ahead and secure your climbing start time with a reservation.  The park often sells out.  Walk-ins are always welcome, however they can only be accommodated on a space available basis.  Reservations are highly recommended. To check availability and make your reservations use the RESERVE TICKETS tab at the top of the page.
Individual Tickets:
All tickets will also be charged a $1 reservation fee.
*Combo Tickets are non-transferable. Both portions of combo ticket are good for the entire season.
Military Discount: Military personnel and their family receive a $5 discount every day; use promo code MILITARY2017 when booking your reservation.  Remember, you MUST show your military ID at check-in. 
When purchasing an Adventure Park and Heritage Museums & Gardens combo ticket, be sure to leave enough climbing time (2.5 hours total) and museum visitation time (minimum of 2 hours).  If you plan to visit the museum grounds BEFORE you climb, please check-in at The Adventure Park to pick-up your museum vouchers; you will then provide those to the museum ticket booth.
Ticket prices are based on the number of aerial trails that are available for each age group. Whether you're coming from near or far—The Adventure Park is a great way to spend a day of active fun with your family and friends experiencing the best climbing and ziplining in Massachusetts! Tickets are only required for guests who are climbing. There is no fee for parking and no fee to enjoy our Forest Walk, the interpretive path under our aerial courses! The Adventure Park is also the perfect choice for a school summer camp or scout group field trips.
Spring, Summer & Fall Climbing Hours: 
Hours vary throughout the climbing season depending on the hours of daylight. Click on the months below to see hours for each month.
April
May
June
July
August
September
October
November
All dates and hours listed are subject to change
67 Grove Street
Sandwich, Massachusetts
02563