Will you be on Cape Cod during school vacation week!  If you're looking for something to occupy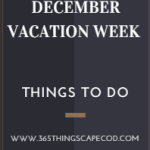 the kids after the craziness of Christmas holiday settles down, check out these Cape cod family friendly events and activities. We will update as we hear about new events! Join us on our Facebook page as well for updates.
Monday, December 26, 2016 to Friday, December 30, 2016 – Open Monday, Tuesday, Wednesday, Thursday and Friday from 11:00 AM to 3:00 PM
Many fun events this week include Snowy Oil, Mixology and Humpback whales
Open Mon-Fri 10-5pm  Sat 12/3110-3pm   Sing along, steam, petting zone are all apart of December vacation week
A magnificent display of more than 100,000 lights, animated reindeer & more.
We are open 11 a.m. to 4 p.m., Tuesday through Thursday   Seal feedings most days at 11:00 am and 4 pm daily
Open 10-8pm for Arts & Crafts
12/27 3:00 PM – 5:00 PM Block Party: Legos in the Library!
12/28  4:00 PM – 5:00 PM Author Visit with Elizabeth Saito
12/29  9:30 AM – 4:00 PM Scavenger Hunt
12/30 9:30 AM – 4:00 PM Scavenger Hunt
12/30 3:00 PM – 5:15 PM Free Friday Films at 3
Lots of family fun Bowling  and Arcades Locations throughout the cape  South Yarmouth, Hyannis, Buzzard Bay, Hyannis