Here are the Easter Bunny sightings as well a some Easter Egg hunts on Cape Cod during  Spring 2017   If you know of any places that are having easter egg hunts that we don't have listed yet please share on our facebook page we will be adding to this page.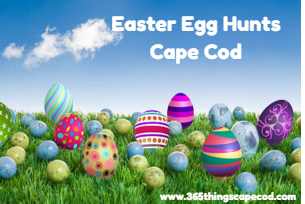 The Easter Bunny is hopping here. Join us for pictures starting March 31st  3/31 thru 4/15   A private event for children with special needs and their families.Sunday, April 2  9AM-10:30AMReserve your spot now at capecodmall.eventbrite.com.
Saturday April 1st
Join us April 1st at Camp Lyndon for our Annual Easter Egg hunt! This event will include breakfast, crafts and pictures with the Easter bunny! Times 9:00am or 10:00am. $5 per person | $20 per family
Good Friday April 16th
Friday  4/14/2017    10:00 am – 10:30 am  Bring your basket.
Rain or Shine!!  Don't be late – it's over in a flash!
Saturday April 15th
Saturday April 15th 1-3pm Dyeing to explore an Easter tradition? Work with natural materials such as onion skins and feathery ferns to create amazing egg designs for a special basket collection to take home. We will also create Easter-themed molded chocolates. All materials included.
(Ages 9 & up)
Saturday, April 15, 2017
11:00AM – 12:00PM
It's that time of year again.. so hop on over and or even run – The Easter Bunny's on his way to Kate Gould Park on Saturday, April 15 with treats for girls and boys with jelly beans and easter eggs don't miss out on all the fun!!!  Among the candy eggs hidden in the park try to discover a prize egg and win an Easter basket filled with goodies!" Sponsored by the Chatham Merchants' Association. Candy donated by Chatham Candy Manor.
Saturday, April 15, 2017
10:00-11:00 pm
Fellowship Hall
Easter is one of the most special events in the church so we'd like everyone to come celebrate with us on Saturday, April 15th from 10:00-1:00 am for our Annual Community-Wide Easter Egg Hunt! We will have three different age-appropriate hunting areas: Toddler-Kindergarten, 1st-2nd grade and 3rd-4th grade. Kids will have the opportunity to hunt thousands of Easter eggs (that are generously filled by our Youth Group)! There will also be tons of activities, games, crafts and more in our Fellowship Hall. This event is perfect for the whole family. Please bring your own basket/bag to collect the eggs
Saturday April 15th Bring the kids for this fun filled EGGstravaganza! Thousands of eggs are filled with all kinds of goodies and spread around for this special day! Don't forget your Easter basket! Pancake breakfast at Marc Anthony's from 9-11 a.m. All proceeds benefit the Wareham High School Young Adults Program. Pancakes, sausage, juice or coffee. $5 for adults, $3 for children Easter egg hunt begins at 11:00 at Prospect Park/Bandshell and continues until all the eggs are gone! Free! Don't be late! This event is co-sponsored by Marc Anthony's, Wareham's Best Buddies Program and the OBA
The Annual Easter Egg Hunt is next Saturday, April 15! Who is going to hop over and join us? Begins at 9:00am, and the Easter Bunny will be present for photos.
Join us for face painting, bounce house, games, crafts, a photo booth and of course an egg hunt! All are welcome!
Join in the fun at this year's Easter Egg Scramble!!Get your photo taken with Mr. and Mrs. Easter Bunny from 10-11am  The scramble begins at 11am – you don't want to miss it! Library Lawn