April  school spring break  vacation week   is fast approaching! Here are some activities and events that will keep the kids busy on Cape Cod.  Check back as additional activities will be added as we learn about them!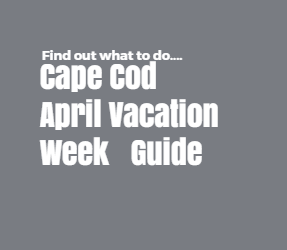 Lots of family fun Bowling  and Arcades Locations throughout the cape  South Yarmouth, Hyannis, Buzzard Bay, Hyannis
Cape Cod Inflatable Park West Yarmouth
Will be open daily for April vacation week!    10am-5pm
Marine Life center Buzzard Bay
Are you looking for something to do while school's out? Visit the National Marine Life Center! Our Marine Animal Discovery Center will be open during April Vacation Week, April 14-23 from 10 am to 5 pm daily. And, from Monday through Friday, drop in to one of our educational classes. Learn more about helping marine animals!
April Vacation Adventures at Wellfleet Bay Wildlife Sanctuary
Spend a week exploring the sanctuary in springtime! Ages 5-11; groups divided by age. Sign up for one day or all five. 9am-2:30pm, Wellfleet Bay Wildlife Sanctuary, 291 Rt 6, 508-349-26
Zip Lining Adventure Park at Heritage Museums & Gardens in Sandwich MA Open  daily at 8am
Art Dune tours  Provincetown  Opens for April vacation great way to spend a spring day
Boy and Girls Club of Cape Cod Mashpee MA The April Vacation schedule is online on our web page. We are open all day during the week, so kids can stay here, and we have some additional feild trips available on a separate basis. The trips fill up fast and all have a different fee depending on the cost to take the kids on it.
Spring MAKE Camp at Michaels stores in Hyannis and Falmouth  Keep little makers'€™ creativity flowing during Spring Break. Each day, kids will explore different craft supplies
Monday April 17th
Manatees day at  Marine Life Center Buzzard Bay 
Float Your Boat April Vacation Program at Cape Cod Martime Museum Hyannis 930 am
Birds of Cape Cod with Amy Croteau at Cape Cod Children's Museum 11am
Making Maps April Vacation Program at Cape Cod Martime Museum Hyannis 1pm
TuesDay April 18th
Turtle day at  Marine Life Center Buzzard Bay 
Geoff the Jungler  at Cape Cod Children's Museum 11am 
Shark Frenzy! April Vacation Program Cape Cod Martime Museum Hyannis 1pm
Teen Movie Club: Rogue One: A Star Wars Story (PG-13) at Falmouth Public Library 1pm 
Block Party: Legos in the Library at Falmouth Public Library 3pm
Wednesday April 19th
Sealion day at  Marine Life Center Buzzard Bay 
Art with Ms Susan at Cape Cod Children's Museum 11am
Playing Pirates at Cape Cod Martime Museum Hyannis 1130 
Get Your Paint On for Teens at Falmouth Public Library 2pm preregistration required 
Thursday April 20th
Whale & Dolphin day at  Marine Life Center Buzzard Bay 
Tinker Time Steam Activities at Cape Cod Children's Museum 11am
Playing Pirates at Cape Cod Martime Museum Hyannis 1130 
Friday April 21st
Earth Day at  Marine Life Center Buzzard Bay 
Art with Ms Susan at Cape Cod Children's Museum 11am