The 13th Annual Troops In the Spotlight for Memorial Day will be held on Sunday, May 28th – 11:30am to Monday, May 29th 2017 – 12:00pm at the Kmart Plaza in Hyannis MA.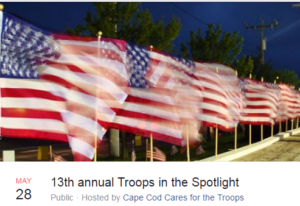 24 hour event to honor our military and support for our deployed troops, our veterans our wounded warriors and our Fallen Heros
Opening Ceremony will honor our WWll, Korea, Iraq and Afghanistan Veterans.
Special Ceremony at 2:00 will honor our Vietnam Veterans. Join us for a BBQ lunch, send a video message to our deployed troops, donate items for care packages, visit the Iraq/Afghanistan Memorial Wall, Kids Tent (with arts & crafts, games, free raffles, face painting), Military Vechicles, Support the Troops Raffles, Music,
Car Show from 4-7pm, midnight ceremony to honor Memorial Day, sign our Support the Troops banner which will be sent one of our deployed units and more to be announced.
You can help by bring items needed for care packages, make a monetary donation, write out a few cards and letters to go in our care packages but most of all please plan to attend anytime during this 24 hour event.
Cape Flyer will provide free transportation from South Station to Hyannis, making several stops along the way.
If you are a military member or veteran we are looking for volunteers to stand at attention on the stage for a one hour shift. Uniform is required. Hours needed from noon on Sunday to noon on Monday. Please send an email to capecod4thetroops@comcast.net
Kmart Plaza, Rt 132, Hyannis, MA