The Cape Cod Antique Dealers Association is reviving its Spring antique show this year in Falmouth, MA. The event will be held indoors on Saturday, June 3rd , 10AM to 4PM at the Cape Cod Fairgrounds (Home of the Barnstable County Fair), 1220 Nathan Ellis Highway, Route 151, East Falmouth.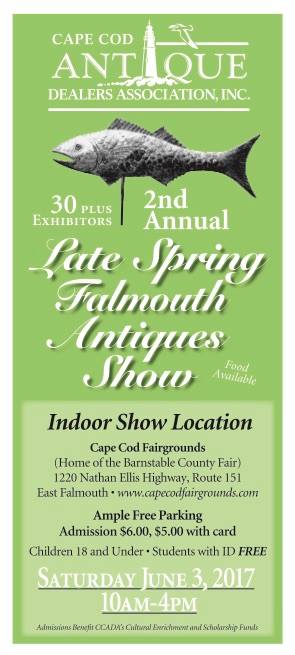 Over 30 quality dealers with a wide array of 18th, 19th, and early 20th century antiques. Buyers will find American country furniture; garden antiques; pottery; glassware; paintings; quilts; jewelry; books; decorative items and more.
Proceeds from the show will benefit the Association's Scholarship Fund and Cultural Enrichment Fund.
The Cape Cod Antique Dealers Association (CCADA) is the professional non-profit organization of antiques and fine art dealers for Cape Cod, long recognized as one of the richest sources of antiques in the country. Our 150+ members from Cape Cod, Massachusetts, and a dozen other states are a community of antiques dealers dedicated to high professional standards. Our aim is to increase and enrich the knowledge of our clientele and the public while offering fine quality, authentic merchandise.