Sandwich Artisans is pleased to announce our 2017 Fine Art & Crafts show schedule. These juried shows are held on the lawn of the Sandwich Public Library, 142 Main St., Sandwich, MA from 10:00 am-4:00 pm.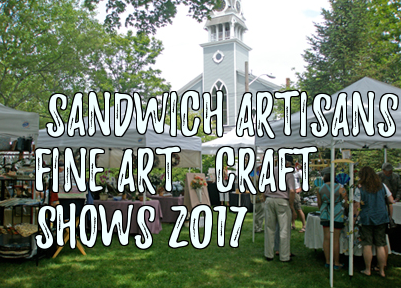 The dates for 2017
May 13th
May 27th
June 3rd
July 8th
August 5th
September 2nd
September 23rd
October 7th
Arts & Crafts on sale include:
fine art
jewelry
pottery
glasswork
photographs
hand-crafted clothing
home accessories
leather and wooden goods
and much more!
All artisan fees are donated to the Sandwich Public Library to benefit youth art programs.
Sandwich Artisans was voted the "2011 Best Business in Sandwich" by the Sandwich Chamber of Commerce.
Sandwich Public Library at 142 Main Street, Sandwich, Mass.