Here are the firework and 4th of July celebrations on Cape Cod MA for 2017 summer Some celebrations start early before the holiday.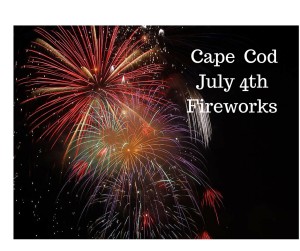 Tuesday  7/4   9pm (rain date, Saturday, September 2nd)  Fireworks, shot off from a barge in Lewis Bay
Falmouth
Tuesday  7/4 Heights Beach Approx. 8:45 p.m.
Harwich
Tuesday  7/4  6 9:15 PM 3 Barges off Wequassett Inn – On Pleasant Bay (Rain 7/5/2016)
1:15pm
Hyannis Inner Harbor Boat Parade
4pm
Hyannis: parade
5-7pm
Town Band entertains on the Village Green, Hyannis
7pm to Dusk
Free concert with local musicians at Asetlon Park, Hyannis
Tuesday 7/4   Hyannis marina dusk  The best viewing spots are the beaches around Hyannis Harbor and on the West Yarmouth beaches along Lewis Bay.
Friday   6/30 , rain date 7/1 Mashpee High School Dusk he festivities begin at 5 p.m. with a whole evening of food, rides, games, music, and lots more.
Sandwich
Monday July 3rd  – 9:00 PM Ridge Country Club – 70 Country Club Road
Tuesday  July 4th  9:00 PM Old Town Cemetery – Grove Street
 July 4th Parade starts at 11am, begins East End, Harbor Hotel and proceeds up Commercial to Franklin Street. Fireworks start at dusk over Provincetown Harbor (view from any bayside beach)