The Free Onset Film Festival is a free outdoor   movie    at The Lillian Gregerman Bandshell during summer 2017.   Movies will be shown   on Thursday evenings from June 29th to August 17th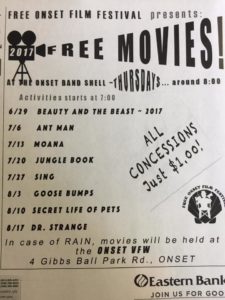 Come early for face painting, 7:00
All concessions are just $1.00!
Scouts! Come dressed in your uniforms and get a free popcorn!
Kids! Stay after the show and help clean up and get a ticket for a free popcorn for the following week!
…
All are welcome and so are donations!
Please be respectful of others and maintain quiet during the show. Thank you!
6/29 Beauty and the Beast 2017
7/6 Ant Man
7/13 Moana
7/20 Jungle Book
7/27 Sing
8/3 Goose bumps
8/10 Secret Life of Pets
8/17 Dr Strange
In case of rain, movies will be held the Onset VFW 4 Gibbs Ball Park Rd Onset