Mashpee commons will be hosting   Sidewalk Festivals this Summer. on select Saturdays.   You'll find an array of complimentary family-friendly activities throughout the neighborhood, including face painting, balloon animals, sidewalk chalk, cornhole and more. Additionally, you can catch several talented Cape Cod musicians performing live throughout the day. And last, but far from least, there will be a Sidewalk Sale taking place throughout the event, so you can score some serious deals while enjoying a fun day in the neighborhood.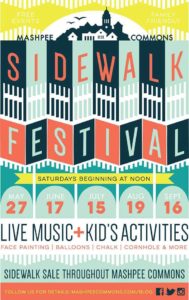 You can catch our Sidewalk Fests monthly throughout the Summer season. Join us on May 27th, June 17th, July 15th, August 19th, and September 16th.
Our August Sidewalk Festival is happening this Saturday! Join us for a fun day filled with live music, complimentary face painting, sidewalk chalk galore, street performers (including jugglers and a magician) and a sidewalk sale throughout the neighborhood. The fest begins at noon and runs through 8pm. Various activities will be taking place throughout Mashpee Commons; in order to help you better plan your day, we've included a breakdown of the times/locations below:
Face Painting: Taking place from 12-8pm, near MOCEAN, iCape and the new Bandstand
Balloon Animals & Glitter Tattoos: Taking place from 12-8pm, near Suits You Swimwear, Siena Restaurant and Setting the Space.
Cornhole: During store hours, between 10am-8pm, cornhole boards can be found throughout the Commons including in front of MOCEAN, Vineyard Vines, The Black Dog, and near Hot Diggity.
Sidewalk Chalk: Chalk art demos, led by the Cape Cod Art Bar, will be taking place from 12-4pm on the Fountain Plaza (near Market Street Bookshop and Trevi Café Wine Bar). Additionally, you can design your own chalk art creations with chalk located throughout the neighborhood.
Local Musicians & Street Performers:
Still Willow: 12-1:30pm, Central Square, near Red Balloon Toy Shop
Cape Harmony: 2-3:30pm, Central Square, near Red Balloon Toy Shop
Kareem Sanjaghi Trio: 4-5:30pm, Central Square, near Red Balloon Toy Shop
Jordan Renzi: 3-4:30pm, near the Organic Market
Marcus the Magician: two 30-min performances beginning at 6:30pm & 7:30pm, Central Square, near Red Balloon Toy Shop
Trevor the Juggler: 12-2:30pm, near The Lili Pad, Maiden Voyage, and Cape Kids
Groovalottos: 4:30-6:30pm, Bandstand, near MOCEAN
99.9 The Q Live Broadcast: Cathy Summers from local radio station The Q will be broadcasting live from 4-6pm near Hot Diggity and Unique Boutique.
All activities are free and open to the public. And don't forget, extended summer shopping hours are currently in place, so you can visit your favorite businesses through 8pm.