The Onset Summer of Love  have Free live Music  every Wednesday evening at The Bandshell in Onset all Summer! The 2017 season runs July 5th through August 30th  630-930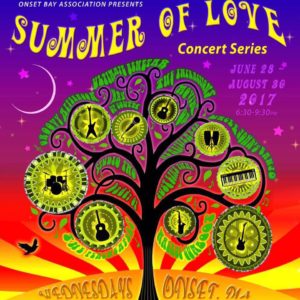 7/5
Daddy O!
7/12
Just Like that
7/19
Movin' On * Ultimate Benetar
7/26
Groovy Afternoon a  tribute to Woodstock
8/2
Studio two & All Star Beatles Tribute
8/9
The Peacheater-An Allman Brother Band Experience
8/16
Uncle John's Banjo  Greatful Dead, Bluegrass Style
8/23
Way up South
8/30
Heartbreaker A  Led Zeppelin Experience
Parking is free after 6 p.m. at the Temple Lot on Union Ave. Always free parking at Hynes Field on the corner of 10th St. and Onset Ave. Handicapped parking available onsite and at the Onset Pier. Pay parking at Onset Pier until 10 p.m. Please do not park on the grass at the Bandshell!
In case of rain, we never cancel a show, we simply re-locate to the Onset VFW Post #2846 Pavilion located at 4 Gibbs Ball Park Rd in East Wareham (for GPS). It's one mile from the center of Onset off of Onset Ave. This is an open air-pavilion with seating for several hundred. All are welcome! Kids, too! Bunker Bar is open and they serve a great home cooked meal every Wednesday for only $8! Stay tuned for these weather updates on our Facebook page! Or text 508-725-2657 for up to date info.
These shows are brought to you by the volunteer efforts of The Onset Bay Association and our many generous sponsors: Marc Anthony's/Salerno's, Wareham Community Events Committee, WCTV, Inn on Onset Bay, Letrice Lopes, LMT, Comrack Painting, Allied Exterminating/Onset Village Laundromat and you