The 4th  Annual Melody Tent Brew Festival in Hyannis will be held on Saturday July 8th 6pm-9pm   will include some of the best craft brews available, all right here under the tent.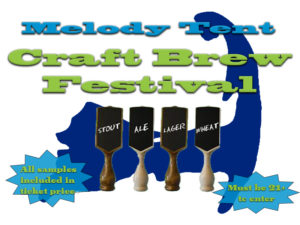 Swell Brewery sampling Mighty Swell Mango, Mighty Swell Lemon, Mighty Swell Peach and Mighty Swell Grapefruit.
Hog Island Beer Company
Devil's Purse
Tenth and Blake
Berkshire Brewing Company
Harpoon
Cape Cod Beer
Ipswich Brewery
Stony Creek
Barrel House Z
Pilsner Urquell
…and many more to be announced!
21 West Main Street
Hyannis, MA 02601