The  Cape Cod Children's Museum and Mashpee Commons are turning the commons into Hogwarts School of Witchcraft and Wizardry for on Saturday July 8th from 10-4pm.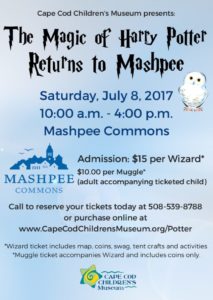 Participants are encouraged to come dressed as their favorite Harry Potter character and journey around the commons to complete a "marauder's map" of participating retailers and restaurants, according to an announcement for the event.
Attendees will also step right into the pages of Harry Potter under the museum's special event tent on the Village Green across from Mashpee Public Library,  "Wizards will be sorted into Hogwarts houses, choose their wands, attend a potions or herbology class and collect coins at Gringott's Bank at Cape Cod Five Cents Savings Bank."
Other participating merchants will include Cape Cod Arts Bar, Cape Cod Coffee Roasters, Color Me Mine, Hot Diggity, Legit Lacrosse, Market Street Bookshop, Modern Mix, Stop & Shop, Sweet Waves and Verde Floral Design.
Tickets are $15 for "wizards" (age 18 and younger) and include full participation in all activities. "Muggle" tickets are $10 for adults and children under 2 years. Tickets can be reserved by calling 508-539-8788 or purchased at www.capecodchildrensmuseum.org/potter.