The Onset Cape Verdean Festival will be held Saturday, August 12th  from 12:00 to 6:00 pm on Onset Beach.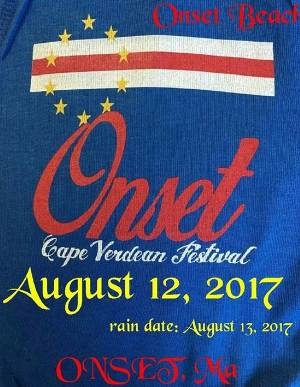 The festival takes place on the 2nd Saturday of August when the weather is warm. It is located in the beautiful seaside village of Onset, MA….a village of Wareham…on the bluffs overlooking Onset Bay. The program starts at 12:00 noon and goes continuously until 6:00 p.m. The music of Cape Verde has a beat similar to the familiar Salsa in the US. Cape Verdeans love to dance and once the music begins, they will not stop dancing until the music ends….no matter how old the person may be. Performers that have emigrated from Cape Verde and now live in the US are asked to play their instruments and sing. Many have only been in this country a short time and the music they bring is original to the Cape Verde Islands. Cape Verdeans have their favorite foods and everyone who attends the festival seems to thoroughly enjoy these dishes. Many vendors set up their booths for the day and sell Cape Verdean T-shirts, jewelry, art and items of interest.
The Onset Cape Verdean Festival is FREE and we hand everyone attending a FREE Program. The Program goes into detail about the history, music, language and even gives several recipes for favorite dishes. There is a picture of each Cape Verde Island with a short description of the Island. OCVFA feels that the Festival and Program assists with our Mission "to promote information and culture about Capeverdeans and to celebrate the origin, history and culture of the immigrants from Cabo Verde especially in the communities with large numbers of residents with Cape Verdean heritage."
The village of Onset is small so a number of parking area have been established before you enter the festival site. There is a $10 parking fee but a FREE shuttle is provided for everyone to the festival area. The parking areas are staffed by a local non-profit Onset organization. Prroceeds goes toward OCVFA's expenses for Police and Wareham Municipal Maintenance related to these parking areas.
"Rain Date" Sunday, August 14th. Parking is available at (2) specified lots along Onset Ave.