First Night Chatham is a family-friendly, alcohol-free celebration of the Arts, with entertainment and activities for children and adults all day from noon until the midnight fireworks celebrated on New Years eve Sunday  December 31st.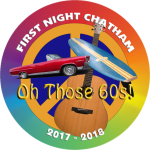 Adult buttons (age 12 and up) are $20.00
Children's buttons (ages 3-11) are $5.00
Children 2 and under: Free
The First Night Chatham button is required for admission to almost all indoor events, as well as some outdoor activities. There are also many Button-Free activities.
There are many events grab your schedule here 
Bubble Wrap Stomp
A favorite activity of many parents, too! Watch the kids show joy as they break the bubbles and make lots of noise!
Community Center Aerobics Room at 1:00 PM (Button-free)
Community Center Aerobics Room at 2:00 PM (Button-free)
Carnival Caper
A costumed road race, from the Chatham Squire to the Lighthouse and back, sponsored by the Chatham Squire. Register outside the Squire starting at 2 pm ($10); Costume judging at 2:30 pm; the race starts at 3 pm (a bit under 2 miles round-trip). Tee shirts and beef stew served at the Squire after the race! Spectators line Main Street to cheer on the runners, walkers, and anyone else parading down the road in costume.
Outside the Squire at 2:00 to 3:30 PM (Button-free)
Children's Art Studio
This event is always very popular, so find your way here as soon as possible. Children craft fascinating stuff, each in their own way. Projects are all child friendly and designed with great creativity.
Elementary School Cafeteria at 2:00 to 5:00 PM
Photo: Susan Karchmer
Face Painting
What child does not enjoy having something fabulous painted on their face? Our painters are the best and the line moves really fast.
Monomoy Middle School Cafeteria at 12:30 to 4:00 PM
Photo: Stanlee Wetzel
Channel 18 Video
Early Fireworks at Veterans Field
Spectacular fireworks after the Noise Parade will be presented as a special treat for the young First Nighters. The show is at Veterans Field and viewing is from the parking lot and fields behind the Chatham Community Center.
Join First Night in recognizing Veterans of the 1960's prior to the start of the fireworks.
Veterans Field at 6:30 PM (Button-free)
Photo: Jane Murray
Channel 18 Video
Midnight Fireworks & Countdown Cod at Oyster Pond
The Countdown Cod is scheduled to drop as First Night Chatham counts down to the exact moment of 2018 from its perch high over the Oyster Pond park, and then signal the setting off of a wonderful midnight fireworks display! Come early for the best viewing spot over Oyster Pond and enjoy the pre-midnight fun.
New this year: Scott Hamilton will lead a sing-along Musical Countdown to Midnight. Stay warm waiting for the fireworks by joining Scott in a rousing series of fun songs that are familiar to all.
Oyster Pond at Midnight (Button-free)
Photo: Michael Karchmer
Horse-drawn Wagon Rides
Buttons are required to hop aboard a horses-drawn buggy with some other folks to enjoy an old fashioned perspective as you drive around town and wave to friends and strangers. Children love it, and we love seeing them enjoy the town!
Main St at Town Hall at 1:45 to 4:45 PM
Just For High School Teens: Canon Hill Band
The Canon Hill Band will perform this year at the Teen Center. Drop in to warm up, see friends, and enjoy free pizza and drinks, and listen to local high school students Ben Hayden on drums, guitarist/vocalist Logan Tichnor, and Vaughn Yerkes on bass. They can be frequently be seen busking on Main Streets of Chatham and Harwich in the summer, and they are the youngest band ever to be selected to play the Harwichport 'Music Stroll'.
Community Center Lower Level at 7:00 to 11:00 PM (Button-free)
Activity Website
Just For Middle School Teens: Laser Tag
Hang out with friends from 7:00 to 10:00 at the Community Center. Returning this year: Laser Tag. Plus games, and free pizza and drinks.
Community Center 2nd Floor at 7:00 to 10:00 PM (Button-free)
Photo: John Markus
Channel 18 Video
Miniature Golf
This year we have a full 9 holes available for play at the Middle School Small Gym – 1 to 6 pm and a full 9 holes at the Community Center Gym – 1 to 6 pm. Who does not love mini golf, especially in December!
Monomoy Middle School Small Gym at 1:00 to 6:00 PM
Community Center Gym at 1:00 to 6:00 PM
New Year's Eve Make Believe
Play a life-size game of Candy Land, and meet a real Belle, Cinderella and Bob the Minion (They will be here from 2:30 to 5:30). Take your picture with them in the photo booth.
Play life-sized Candyland – you are the game piece as you move along the giant board following the rules of Candyland. Be the first to the castle as you pass through the Peppermint Forest, meet Queen Frostine and her ice cream sea, and try to avoid The Villain of Candy Land, Lord Licorice. Candy prizes for all courtesy of Chatham Candy Manor.
St. Christopher's Parish Hall at 1:00 to 6:00 PM
Photo: Ron Snider
Channel 18 Video
Noise Parade – led by New England Pizza
Join the raucous fray! Make noise any way you want. Help celebrate New England Pizza's 30th anniversary, and their support of the First Night Teen events.
A police escort leads the parade and no one will be cited for too much noise. Great fun for kids and adults, who often wear silly hats. Start at the corner of Cross and Main at 6 pm, walk to rotary, then continue on to the Chatham Community Center to see the early fireworks!
Town Hall Corner (Main & Cross Streets) at 6:00 PM (Button-free)
Activity Website
Rock 'n' Roll Racing
Rock'n'Roll Racing is a mini-Nascar race track where you drive a car from the side with a steering wheel and throttle. And 9-hole mini-golf is also here in the Middle School Gym.
Monomoy Middle School Small Gym at 1:00 to 6:00 PM
Photo: Spencer Kennard
Town Photo
Important! Please use front gate only !
Show up with your family and friends and pets to pose for the Town Photo. Start First Night with a wave at the camera and a smile on your face. The photo will be available at the Chatham CVS store for purchase. A panorama deep-zoom photo will also be posted on the First Night Chatham website. Have fun zooming in to see if you blinked, check out who was there, and just enjoy actually seeing your lovely smile up close.
Chatham Lighthouse Grounds at Noon (Button-free)