The Orleans Chamber of Commerce is hosting the 6th Annual ClamBQ! The Orleans Food and Music Festival is on Saturday, September 30th , 10:30 am – 5 pm at Eldredge Park. ClamBQ!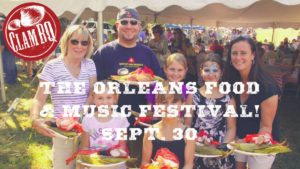 The early fall celebration will feature a traditional clambake dinner and lots of entertainment and fun activities for the whole family.
Festival Line-Up
2017 Festival Line-Up
11:30-2:00PM The Grab Brothers
The Grab Brothers are true brothers—Larry and Marc Grab—with music that explodes in a kick-ass blend of "Retro for Today" lead guitar crunching rhythms, mystical-leaning lyrics and arena-filling vocals that pull your heart strings on a whim.
2:30PM-5:00PM Wicked Rooster
DubGrass Straight From the Tap! Whisky Soaked Funk Of the Appalachia, like 99 Proof Sour Diesel.
Calling all Teens!
The Amazin' Gamin' Video Game Truck will be at the ClamBQ! Playing games in the truck is included in your admission! We bring the best games, best gaming consoles, HUGE high-definition TV's, awesome lights and sound, and so much more! With 7 HUGE TV's, up to 28 guests can play at once!
Kiddie Land Fun For All Ages!
Lots of fun can be found at the ClamBQ! Admission into the ClamBQ is FREE for those 12 and under! All kids activities are FREE! Enjoy Hayrides, Teeball, Skeeball, Hoops, Hooley Ball, Crafts, and Facepainting!
Tickets 
It's easy to get your tickets! The fastest way is to order online and print them right at home. Online ticket ordering ends on Friday September 30th, 11:59PM. Clambake, BBQ and General Admission will be on sale Day-Of at the ClamBQ! To order by phone, call us at (508) 255-7203. Get tickets in person at the Orleans Chamber of Commerce located at 44 Main St. Orleans, Monday – Friday 9am-4pm. Day-of-ticket sales and Will Call will be available at the box office at Eldredge Field, located near the event entrance, beginning at 9:00am on the day of the event.