Sandwich Holly Days. are a month-long event that transforms the town. into a winter wonderland where friends, families and visitors come together for. holiday fun.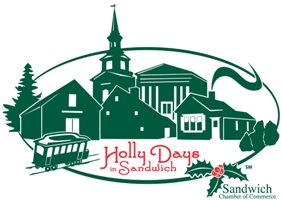 Here are the official events by the chamber of commerce for 2017
Small Business Saturday • Saturday, Nov 25th
Help make a lasting impact in the place you call home on Small Business Saturday®.
Founded by American Express in 2010, it's a day to celebrate the local businesses
that make your neighborhood great. Now it is your turn to show them your support
and appreciation by stopping in on November 25th. Your local independent businesses
are already aware of the importance of shopping small and Small Business Saturday.
Lighting of the Littlest Christmas Tree • Sunday, Nov 26th • 5pm
Shawme
Pond – Family free event. Feel the magic of the Thornton Burgess story as the little
tree in the pond lights up for the first time this season. Sponsored by the American
Legion Post 188 of Sandwich.
Community Carol Sing • Friday, Dec 1st (rain/snow date Sunday, Dec 3rd)
Gather at the steps of the First Church of Christ at 7 p.m. for the annual Carol Sing.
Santa Claus will make a brief appareance. Cider & Cookies to follow at the Dan'l
Webster Inn. Sponsored by the Belfry Inn & Bistro.
Holly Days Holiday Show: An Evening of Holiday Music with
Steve Gregory & Friends • Saturday, Dec 2nd • 7pm
The Sandwich Arts Alliance, in conjunction with the Sandwich Chamber, presents
the "Holly Days Holiday Show" starring Steve Gregory. Steve will be performing
and hosting his delightful collection of holiday music and song, along with fellow
musicians, family members, student musicians, a ukulele group, and more. It's a
Sandwich Community gathering that is sure to put you in the holiday mood. Tickets:
$15; available online at www.sandwichartsalliance.org and at Splash Stationers, 126
Route 6A, Sandwich.
Shop Sandwich First Holiday Market • Tuesday, Dec 5th • 4 – 8pm • Wing School 
Come see the latest retail holiday fashions and gift ideas from up to 20 local retailers
and gift shops across the area in an attempt to get all your shopping done in one
night! Come in and contribute to your local economy by Shopping Locally and start
(and finish!) your holiday shopping early! Complimentary Gift Wrapping will also be
available.
Meet the Cover Artist
9117 Holly Days Book_2017_FINAL.indd 2 10/26/17 1:07 PM
Holly Days Home Tour • Sunday, Dec 10th • Noon – 4pm
Experience Sandwich's long history of community spirit, neighborhood charm and gracious
homes and be taken around town in an old-fashioned trolley, compliments of Kinlin Grover
Real Estate. Celebrate the Holiday Season with us. (see page 18 for more info)
Pancakes with Santa • Saturday, Dec 16th • 9 – 11am
Legion Post 188, 20 Main Street. Thanks to the American Legion!