The 5th  Cape Cod Comedy Festival will be held at Saturday June 10th  5 to 10pm at the Cape Cod fairgrounds in  East Falmouth.  A percentage of the proceeds will benefit Cape Cod Children's Museum.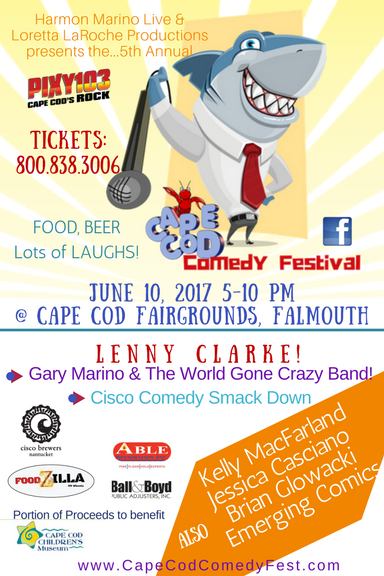 Tickets are $25 and can be bought online 
5:00 PM! Festival is OPEN!
Be sure to come HUNGRY! There will be Food at Foodzilla on Wheels. A monster Foodtruck!
Let's not forget Cisco Craft Beers! Go Grab a burger and a BEER!
Do you have your tickets?
6:30 – 7:30 PM Cisco Craft Comedy Show!
Shows are in the Market Building- Theatre Style Seating.- GA
Let's open the Festival with an hysterical comedic showdown! The winner will open for Our Really Big Comedy Show following at 8 PM
Sponsored by Cisco Brewers Nantucket- GO GRAB A BEER!
These lucky comics sent us their acts and now they are performing for you! LUCKY! Sit back and get ready to Laugh!
​Our Host: Brian Glowacki
​Comedians: Meghan Radespiel, Adrienne Baumann, Jessalyn Peters, AJ Hapenny, Ed Waugh, Alli Brown, Billy Boyle, Tom Stewart and Eric Taylor!
​
Winner of the Craft Comic Showdown:
We will announce one comic as the winner!
This lucky comic will get:
5 minute set as the OPENER of our Really Big Comedy Show with
Lenny Clarke- 8 PM
Cool Festival Swag!
Pictures with Headlining Acts
​