Autumn in Olde Cotuit will be held on Saturday September 23th 11am-3pm at Historical Society of Santuit and Cotuit.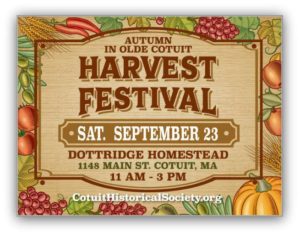 This popular family event features artisans demonstrating 19th century crafts including: quilting, rug hooking, open hearth cooking in the Homestead, knot tying, Nantucket basket weaving, and more. Demonstrations by Wampanoag native people on open air cooking and jewelry making are also be featured on the grounds of the Dottridge Homestead, as well as the opportunity to see the oldest fire engine on Cape Cod.
Burgers and brats are served up on the grill as well as seasonal brews from Cape Cod Beer. Delicious home made pies will be available for purchase by the slice.
Come join us for the wonderful step back into time!
Historical Society of Santuit and Cotuit
1148 Main St, Cotuit, Massachusetts 02635