Chatham History weekend will be held  Friday, June 17, 2016 to Sunday, June 19, 2016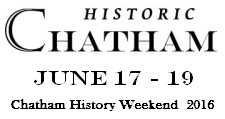 Historic Chatham will again sponsor "Chatham History Weekend". All Historic Chatham member organizations will be open at least one day that weekend – many venues will be open at no charge.
There will be a special educational event at the Godfrey Windmill with the Chatham Boy Scout Troop on Friday June 17 and Saturday June 18. Weather permitting the Mill will be grinding corn,
The Oral Lineage of Old Chatham
Eldredge Public Library History Weekend Program
Thursday, June 16, 7:00 PM
Join native son Todd Kelley for a discussion sharing the substance of Chatham's oral tradition. Learn about the lifesaving stations, lightships, lighthouses and more importantly the surfmen who personified an unparalleled conviction to community beyond self. They were the predecessors that set the benchmark for the heralded Pendleton rescue. Intertwined in this story will be a visual tour around town to witness the Chatham of old in comparison to modern day.
I
Atwood House Museum – History Weekend
Friday, June 17, 10:00 AM – 4:00 PM
Saturday, June 18, 10:00 AM – 4:00 PM
Sunday, June 19, 2:00 PM – 4:00 PM
The Atwood House Museum will be open with free admission on Friday and Saturday, with tours and Spotlight talks. On Sunday, June 19th at 2:00 PM, the At The Atwood Lecture Series will present "Attack on Orleans".
Spotlight talks are informal talks (about 15 minutes plus Q&A) about a featured item or topic in the museum.
Friday, June 17 Spotlight Talks:
11:30 am – Life in a North Beach Camp, Don St. Pierre
2:00 pm – Women at Sea, Barbara Semple
Saturday, June 18 Spotlight Talks:
11:30 am – Viewing Our Nautical Charts Online, Bill Horrocks
2:00 pm – The Real Alice Stallknecht, Lisa Edge
Image
Marconi-RCA Wireless Museum
– History Weekend
Friday, June 17, 10:30 AM – 4:30 PM
Saturday, June 18, 10:30 AM – 4:30 PM
Sunday, June 19, 1:00 PM – 4:00 PM
The Museum opens its regular Summer season on History Weekend. In celebration of Chatham History Weekend, admission to the Marconi-RCA Wireless Museum is free throughout the 3-day weekend.
New and refreshed exhibits will be on display in the Operations Building's Wireless History Gallery, the Education Center's Wireless of Today/Tomorrow Gallery, and the outdoor Antenna Field Trail.
Caleb Nickerson House – History Weekend
Saturday, June 18, 10:00 AM to 4 PM
Chatham History Weekend Open House. From 10 a.m. to 4 p.m., artisans from the Caleb Nickerson House Forgotten Arts Programs will be on hand to demonstrate Colonial crafts and to answer questions about clothing, kitchen life, gardening and early woodworking and home building. Tour this classic Cape to see life in the early 19th century.
This is also Family Genealogy Day, a time to explore your Nickerson roots in our genealogy center. Come and delve into your family genealogy and enjoy the atmosphere of our living history campus.
Chatham Walks Special Free Walk
Saturday, June 18, 3:00 PM starting at the Chatham Community Center
Take a walk through
historic downtown Chatham!
Learn about the history, architecture and people of our beautiful Cape Cod village in a fun, informative 90-minute walk through the town's scenic business district, the heart of Chatham.
"Chatham Walks" is a Guided Tour service in Chatham, new last year. They will lead a special free walk on Saturday of History Weekend, at 3:00 PM, leaving from the Chatham Community Center. (Note time change: was originally 10:00 AM). Look for the guide with the red sneakers.
Read more on the Chatham Walks Website and Facebook pages.
Chatham Book Signing, with Alan Pollock
Saturday, June 18, 10:00 AM to 1:00 PM at the Chatham Marconi Maritime Center
Alan Pollock will be on hand to sign his new book, Chatham, which uses stunning images to illustrate the changing times of Chatham. In the last half century, most of the change that has come to Chatham has been subtle. Historic houses gave way to hotels when Chatham became an attractive vacation destination for motorists, and then the hotels became homes again as summer visitors sought to have a place of their own for retirement.
This book captures a time of transformation when Chatham stopped being a small summer resort town, and became a high-priced destination for retirees. Using images captured by people who live in Chatham and who love the town, this book tells that story. Many of these photos have never been published before. The book also includes many photos from the archives of The Cape Cod Chronicle, which just marked its 50th anniversary.
Image
Discover the History of Your Chatham Property, and order an Historic House Sign
Friday, June 17th, 11 AM – 1 PM at the Eldredge Public Library (lower level)
Don Edge will be available to assist people who are interested in learning the history of their Chatham home or commercial building built at least 100 years ago.
Complete descriptions of each building and its history are available in the Library for most early structures. These structures are also eligible for an inexpensive Historic House Sign, as described on the Historic Chatham property Owners page. Order forms will be available and assistance will be offered for the wording of your sign.