Why not treat yourselves to Inn At Cape Cod in Yarmouth Port New Years Eve 2015 Luxury Package. The elegant charm of our inn lends itself perfectly to a luxurious but understated ambience. Relax in one of our beautiful Luxury Guest Rooms/Suites and enjoy our creative breakfast cuisine each morning to set you up perfectly for your day spent exploring the festive delights of Cape cod's Historic District, here on Cape Cod Bay. There are museums, art galleries, antiques, quaint little shops, coffee shops to enjoy as well as The Cape's stunning natural beauty and sunsets at our local Grays Boardwalk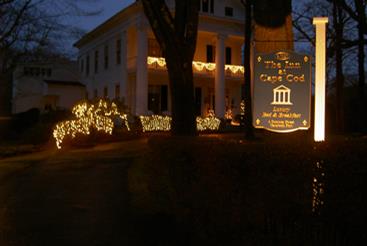 Stay a minimum 2 nights to qualify for the following:
Two nights accomodation i.e. choose a room/suite that you like listed below
A candlelit dinner for 2 at The Old Yarmouth Inn or Primavera restaurants (subject to availability)
A chilled bottle of Gloria Ferrer Californian bubbly or if you prefer, the authentic version for a $25 supplement, to be served at the time of your choosing.
Full breakfast for two each morning
Complimentary access to Roku including NETFLIX movies
Optional third night at half price
Select from the following luxury rooms/suites and their prices:
King/Queen Suites: rooms 1, 4, 5 & 9………$549, extra nights for $159!
Queens: rooms 2, 6, 7 & 8………$495, extra nights for $149!
So hurry, because the sooner you book the more room or suite choices you will have.
Cannot be claimed retrospectively or combined with any other offers or deals.
Stay a minimum of 2 nights between 12/29/2016 and 1/2/2017 in any of the 8 specified rooms/suites to qualify for one dinner for 2 people at a choice of two local restaurants, one bottle of bubbly ($25 extra for French champagne). Extra nights at half-price!
December 30th to January 2nd, 2017
Enquire