Spoon and Seed is a new breakfast and lunch farm to table  restaurant located in Hyannis! During the weekend it serves breakfast and lunch but on weekends it brunch only.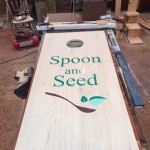 The interior  design is comfortable and cozy   with the original wood interior and a small amount of tables and high tops. The food is what speaks volumes here.  Their walls proudly declare Spoon and Seed's local farm partnerships including Not Enough Acres, Wanna Bee Farms, Cape Cod Organic Farm, Fresh Picked by Alfonso and Reel Time Fishing.
For breakfast,  you will see  farm fresh eggs, homemade sausage and corned beef hash all served with the freshest vegetables
Here are some of their reviews
Enjoyed my blueberry pancakes at the new Spoon and Seed breakfast/brunch/lunch restaurant in Independence Park (on Kidds Hill Road on the way to Shepley's). Definitely worth checking out — the chef was formerly at Pain d'Avignon.

Ate lunch here for the first time today. Been waiting for a place like this on Cape Cod for a long time. Best pulled pork sandwich I've ever had. Chef Matt makes just about everything from scratch, from the kimchi on the pulled pork to the ketchup and french fries. Also had the creme brûlée which was also phenomenal. Highly highly recommend. Will be returning with the wife this weekend.

Our first visit to the highly recommended Seed and Spoon was above and beyond our expectations. The specialty omelet was amazing! The homemade corned beef hash was by far the best I've had. Service was outstanding. A must visit!! Our next visit will be to try lunch.

The spoon and seed is amazing. The Spudnut (donut made with potato) was to die for. The omelet was light and fluffy and delicious. The pancakes were enormous and delicious. The staff is friendly and the owners are amazing people.

Amazing flavor combinations and you can tell it's all fresh ingredients. It's also great to know we're helping out local farmers and businesses while eating good food. Definitely my new favorite place.

Brought my elderly mother here today for a late breakfast and they were very kind to offer us breakfast items even though it was lunch time and the lunch menu was being served then. Best blueberry muffin I've ever had and mother cleaned her plate she enjoyed it so much. Everything we ate was delicious. We will definitely be back!

Every time we have eaten here it has been consistently awesome! Love the food, the service and the comfortable decor!

Just had a delicious butternut portabella omelet that was amazing . I wish I had saved room to try my sins banana French toast though ! Could taste the freshness

So fantastic. My new favorite breakfast! Everything was wonderful, from the meal to the service to the atmosphere. Great coffee too!
Hours
Tuesday-Friday Breakfast 7:00am-11:00am
Lunch 11:00am-2:30pm
Saturday-Sunday Brunch 7;30am-2:00pm
(Closed Monday)
12 Thornton Dr  (Intersection with Kidds Hill Road) (The Old Murph's Recession)
Hyannis, MA
(774) 470-4634