The Country Fare Restaurant is located on Main Street in Falmouth! It is a  cozy place in Downtown Falmouth that is good for breakfast and lunch while you are on your Cape Cod Vacation.  It has   1950s retro    atmosphere, with the breakfast bar counter and red stools and booths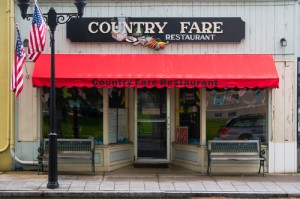 They have  your traditional breakfast food including  home fries, eggs and sausage – but also  Portuguese sweet bread french toast and  linguica. They also have  more creative options – omelets with fillings such as Linguica, or Texas Chile – all are great. Also check out the grilled corn bread.
Local artwork from the Artist's Guild is displayed on the walls. Falmouth-opoly is also availble. It is a local version of the board game, with proceeds benefitting the Cape and Ilands United Way, Juvenile Diabetes Foundation and Alzheimers Association Memory Ride.
Hours: Monday –Saturday  7am-2pm Sunday  7am-1pm
Country Fare Restaurant
319 Main St
Falmouth, MA 02540
(508) 548-9020