Christmas in Harwich will be held on Friday December 1st, Saturday December 2nd  and Sunday December 3rd . There will be the Harwich Port Stroll, Tree Lighting Ceremony & Family Caroling.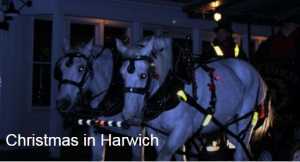 Friday December 1st- Harwich Port Stroll 5:15-9:00pm
Welcome 5:15pm Doane Park
5:30pm- Tree Lighting and Caroling Doane Park
5:30pm-9:00pm Stroll through all the Harwich Port Businesses
6:00pm-9:00pm Horse Drawn Carriage Rides
6:15pm-Santa Arrive by Harwich Fire Truck
6:15pm-8:00pm Pictures with Santa
Saturday Dec 2, 2017
8:30am Breakfast with Santa
9:30am-1:00pm Garden Club Holiday Fair
"New" Rocking Christmas in Harwich
and More to Come……NEW Events
Sunday, Dec 3, 2017
Watch for more ….