Cataumet Crossing is the perfect destination for a date night or a day with the family. Enjoy a delicious ice cream cone from Lazy Sundaes or play a round of golf at Cataumet Light Mini Golf. They are  one mile from the intersection of Route 151 and Route 28A and 2.5 miles from the Otis Rotary Circle.  We invite you to come to see us Cataumet Crossing where there is "FAMILY FUN FOR EVERYONE!"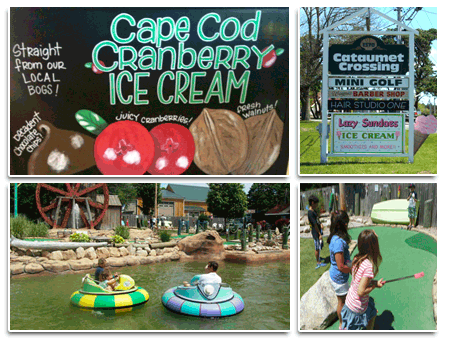 Cataumet Light Mini-Golf
A completely redesigned mini-golf course that's quiet and peaceful.  Hear the rushing water of three rivers and two fountains while you enjoy eighteen holes of challenges and fun for the whole family.  Hit the bell with coins at the paddle wheel pond and make a wish.  You might even catch an occasional celebrity playing a round during the summer months.
Bumper Boats
Race your boat in our bumper boat lake and get tangled up with other boaters.   Watch out….you could get bumped!!   Great summer fun for kids and adults!!
Batting Cage
We have one of the only wiffle ball batting cages in the area.  The batting cage throws a softball size wiffle ball.  The kids will love it!! Challenging for adults too.  Insert a token and step up to the plate at Fenway Park.  Crack!!!  There goes another ball over the Green Monster!  Home Run!!  It's a field of dreams right in Cataumet.
Fastball Pitching
How fast is your Fastball? – -Radar gun speed pitching is a lot of fun for kids and adults.  Throw a real baseball and the radar gun tells you the speed.
Lazy Sundaes Ice Cream
Home of "The Best Cream In The World".   Our ice cream comes from a family owned dairy near the New Hampshire border.  The dairy has been operated by the same family since 1695——Now that's Homemade!!  If you truly love fresh, homemade ice cream, sundaes and our famous smoothies you'll be hooked.  We prove it to our customers every day.  The homemade recipes set us apart from all other ice cream brands shops.  The ice cream, yogurts and sherbets are proudly created from scratch making the "One Perfect Ice Cream".   For example, the Vanilla ice cream contains pure bourbon extract from Madagascar, Chocolate contains premium cocoa from Holland, and Maple Walnut contains real Vermont maple syrup.  Our customer's continue the tradition today by bringing their children and grandchildren to Cape Cod to taste ice cream the way it's supposed to be made – "From Cow to Cone"!  Try our newest flavor called CAPE COD CRANBERRY made with juicy cranberries, decadent chocolate chips and fresh walnuts.  Straight from our local bogs….delicious and addictive!!
Looking for a fun and exciting place to spend your birthday with friends and family? Well you've found it! Come and enjoy a fabulous round of mini golf with your friends at Cataumet Light Mini Golf, while also riding on our bumper boats. After all the fun, head over to Lazy Sundaes for "The Best Ice Cream In The World"!
Cataumet Crossing – 10am – 10pm daily; Lazy Sundaes – 11am – 10pm daily
1370 Rt. 28A, Cataumet MA, Cape Cod :: (508) 326-8160