The  4th  Annual Chalk-Full-O-Fun Onset Street Painting Festival will be heldon Sunday   August 27 @ 9am – 6:00 pm   Live music from Noon-4:00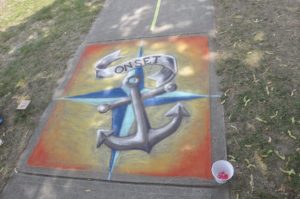 Quickly becoming one of the favorite events of the Onset Bay Association  artists and budding artists alike come to Onset and spend the day creating their chalk art along the sidewalks surrounding The Bandshell. Spaces are assigned and pastel chalk provided. There will be live music with Bill Reidy from Noon-4, a juried arts and craft fair, a story walk for the kids courtesy of the Wareham Free Library and more!
Live music provided by Bill Reidy. For more info on Bill and upcoming gigs, please visit his website
Registration begins at 9:00. $5 to participate gets you a box of pastel chalks and a space on the sidewalk. People's choice voting system, winners in several categories will be awarded various prizes! Fun for the whole family!
Free parking is available at Hynes Field, located on the corner of 10th Street and Onset Ave (next to Chuck's Auto) It's a 3 minute walk up 10th Street to the Band Shell. Closer pay parking is available on the town pier, 200 Onset Ave, and at the Temple Lot on Union Ave. Handicapped spots (6) available onsite and also at the Temple and Pier lots
For more information on how to register please email onsetstreetpaintfest@yahoo.com. This event is free to attend.