The  Blackcat Tavern is a   casual waterfront restaurant  located right on the docks in Hyannis Harbor across from the HyLine ferries.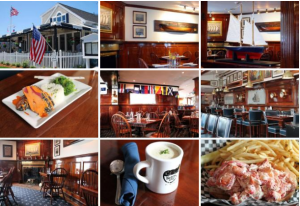 You can  dine inside in the  newly renovated dining rooms or outside on  the  heated patio while watching the boats sail in and out of the harbor. The menu features everything from thick, juicy burgers and garden fresh salads to fresh native seafood and prime beef. This
landmark restaurant is a favorite among locals and visitors alike.
Serving lunch, dinner and Sunday brunch with entertainment Thursday through Saturday night in the lounge. Plenty of free parking with valet service offered for your convenience.
Check out all the reviews
We went with a large group on a busy Saturday and honestly I was impressed with quickness and quality of our service.
The food was great! I applaud the kitchen staffs turnout time. They manage to get the food out quickly and don't sacrifice quality to do it.
The best part was the amazing hostess and our incredible server!
I cannot speak highly enough about the woman that took care of our chaotic table! As well as her ability to make sure I was extra taken care of with my food allergy (fish of all things). In a restaurant that serves so much fish her attentiveness and knowledge helped me feel beyond secure in eating there.
We Cannot wait to go back again!!!

Great food with new menu items. The raw bar trio appetizer was superb with a Hendricks G&T. Baked scallops were sweet and tender. My only suggestion is to add espresso as an after dinner option.

The food was delicious cooked to perfection. I had fish & chips made with haddock just how I like it. Great service and theme. I'd definitely suggest it to anyone looking to enjoy a night out.

The unique name is what caught my attention and the location was great. When you first approach the tavern you are greeted by a friendly hostess with a bright smile. My brother and I decided to sit outside despite the windy and overcast weather. They had heaters set up all along the patio that accented the setting with the open flames. All the staff were friendly and quick to serve. The menu had an array of items to choose with an abundance choices of seafood. I decided to try their "Award Winning Clam Chowder" which was creamy, not too heavy, seasoned just right and balanced for a mouthful of clam chowdery goodness. Instead of getting just two lunch entrees we decided to pick a few starters and ordered their spicy tuna tacos, popcorn shrimp, and bacon wrapped scallops. Tuna was seared evenly with a peppercorn crust topped with sautéed peppers and onions wrapped in a corn tortilla. Popcorn shrimp were so so tasty we just kept popping one after another. The bacon wrapped scallops were perfectly cooked with bacon just right with the right amount of crispness and texture of the scallop and bacon was excellent.
Our experience at the Black Cat was memorable and will have us come back again.
Black Cat Tavern
Open 11:30AM – Close Daily / Sunday Brunch 11:00AM
165 Ocean Street  Hyannis, MA