Wellfleet's Holiday Stroll  will be held the weekend  of  December 10th and 11th. Come experience the warmth of Wellfleet's holiday cheer during winter time. Explore our unique stores and businesses, hand crafted wares at Wellfleet Preservation Hall's Holiday Bazaar and Craft Fair, amazing Art Galleries, nautical treasures and more.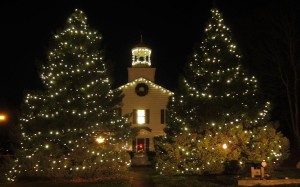 Holiday SWAG Party
On December 10, Save to calendar
Holiday SWAG Party
CREATE your own Xmas Garland
The Wellfleet Methodist Church
December 10, 2016 10:00 a.m. to 2:00 p.m.
Admission and materials FREE
FREE Hot Dogs and Clam Chowder 
Crafts and Baked Goods SALE 
At Wellfleet Methodist Church
The Wellfleet Chamber of Commerce is holding its Annual Holiday Tree Lighting and Sing-along on Saturday, December 10th from 4-5:30pm. Please join us on the Town Hall Green for some holiday cheer and singing carols hosted by Denya LeVine and Julie Charland, with special guests from WES.